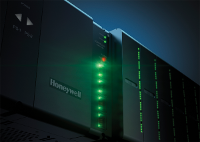 ControlEdge™ programmable logic controller (PLC) is one of Honeywell's first IIoT-ready controllers. When combined with Experion®, ControlEdge PLC provides secure connectivity and tight integration to devices from multiple vendors and works with any SCADA system. The result is optimized operations and maintenance efficiencies that liberate personnel from manual processes.
Experion Integration: Designed to work with any SCADA system, ControlEdge PLC becomes a superior solution when combined with any variant of Experion or Experion SCADA. It reduces users' cost over the lifecycle with a smaller footprint and easier maintenance.

More specifically, benefits of Experion integration include:

Faster system setup, testing and troubleshooting with seamless support from a single vendor for both DCS and PLC

Reduced risk with fewer elements to manage and a single point of responsibility

Lower cost and risks due to fewer coordination errors, less engineering, faster installation, less training and reduced hardware

Improved operator effectiveness due to a leaner control room

Fewer operator and engineering stations, less hardware and wiring, reduced IT licensing, and less training with a common operator interface.
OPC UA: Built on a proven and capable platform, ControlEdge provides an IIoT-ready open platform that enables users to better leverage data across their assets. Benefits include:

Smooth integration with a broad range of instruments, equipment and software from multiple vendors

Flexible and scalable design due to interoperable multi-level and multi-platform open communication

Direct access to cloud-based applications for visualization and analytics

Investment protection and easier maintenance, and therefore reduced cost and risk due to direct access and reduced gateways
Universal I/O: ControlEdge is the first PLC to offer Universal I/O, providing remote configuration and design change flexibility for improved project implementation. Universal I/O enables the entire cabinet to become a standard part, with I/O channels quickly configurable to allow modules to serve as analog or digital and as input or output. Engineers can quickly accommodate late configuration changes remotely with a simple software configuration change.

By offering Universal I/O, ControlEdge offers:
Both configuration efficiency and flexible design, thereby reducing project schedule, cost , and risk.

Simplified maintenance due to elimination of tedious documentation updates for cabinet configurations

Reduction in types of I/O modules that reduces the number of spares needed and associated holding costs.

Fewer cabinets, reduced footprint, and lower infrastructure cost due to reduced or eliminated marshaling necessary
Cyber Security: Our embedded cyber security supports compliance, reduced risk, and availability. Features include secure boot to prevent uploading of unauthorized software, a built-in firewall to reduce exposure to denial-of-service attacks and message flooding, and a certified secure development lifecycle to ensure security is built in from the start. In addition, Honeywell offers Industrial Cyber Security Solutions and Managed Services that help protect the availability, safety, and reliability of industrial control systems and site operations.